Intune has a new feature – once again.
You can now send push notification to the users' screen.
There are several scenarios where you would like to send some push notifications to your users.
inform users about strangers on the company campus
inform users to take a break from the heat and spend the rest of the day at the pool
let them know that the ice cream cart is at the campus and you sponsor a free one
Requirements
The device needs the company portal installed.
The Company portal needs the required permission to allow notifications
On an Android, you'll also need Google Play Services
Limitations
You can only send 25 messages per hour per tenant.
Messages appear as a standard push notification. If the company portal app is open on iOS, the push notification is shown in the app instead
the title can have up to 50 characters
the body can have up to 500 characters
Each notification can directly target up to 25 groups. Nested groups don't count against this total.
Flow of a message
Intune tries to send the message for one hour.
The message is sent to the company portal. The company portal creates then the push notification
How to send a message
Login into Intune and go to Devices → Send custom notifications
On the Basic tab specify title and body for the message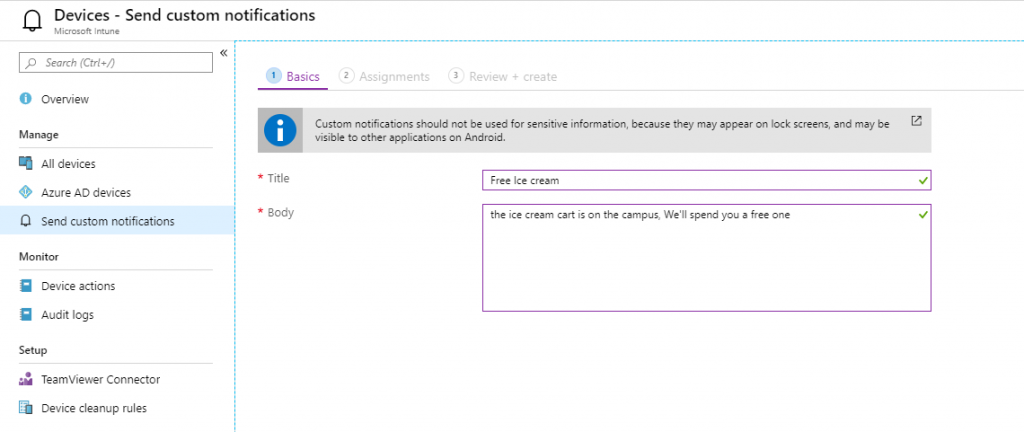 on the Assignment Tab add some groups you want to notify. If you are mixing user and device groups, only users with an Android or iOS device are affected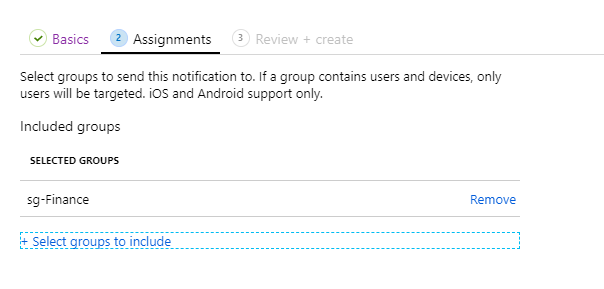 on the Review + Create tab just doublecheck your settings and hit Create to send the message